About SnL
SnL is the first in the Philippines to bring the Hoodia Gordonii. It's an appetite suppressant, fat burner and skin whitener.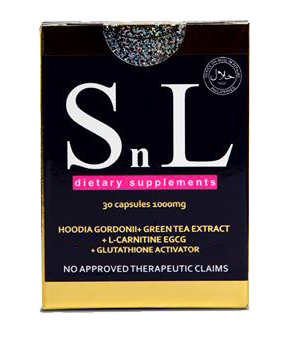 The story behind creating the best weight loss supplement to date
After the success of Kyusoku Bihaku, the country's first and only free form glutathione supplement with NAC and rosehips, Yumei Mise steps up the ante once again with SnL Dietary Supplement.
In a continuing pursuit of formulating and innovating health and beauty products, Yumei Mise introduces a one of kind food supplement that combines fast, effective and safe weight loss with the proven glutathione boosting properties of Kyusoku Bihaku.
It took a couple years of planning and testing before Yumei Mise decided to launch SnL. During the planning and testing stage, Yumei Mise studied existing weight loss products and then conducted research and testing on how to greatly improve on the formulations.
Yumei Mise took into consideration the remarkable, appetite suppressing properties of then little known plant Hoodia Gordonii. Growing mostly on the African continent, hoodia gordonii is a succulent plant long used by African bushmen to stave off hunger and to help see them through long periods of drought.
Studies show that its ingredient, P57 is highly effective in negating hunger signals in the brain and in reducing the production of gastric juices normally associated with hunger. This makes hoodia gordonii relatively safe as its appetite curbing properties is all-natural and doesn't have the common problems caused by other form of suppressants like ephedra and high doses of caffeine.
SnL is the first weight loss supplement in the country to have hoodia gordonii in the blend. To add to its weight loss effectiveness, SnL also has l-carnitine, a compound known be a highly effective fat metabolizer and green tea extract which apart from being another weight loss aid, is also a rich source of antioxidants.
Combining all these with the undisputed leader in glutathione supplements, Kyusoku Bihaku (KB), SnL truly sets the standards high for weight loss supplements.
How to use?
Take (1) capsule of SNL either morning, afternoon or evening time. Preferably at least 10 minutes before meal. Remember it should be once a day only. No overdose please.
Do NOT overdose unless you are really OBESE according to your doctor.
If you are taking any other medication just make at least 30 minutes interval before you take this. Do not mixed it with other supplements.
If you have health problem, I suggest you ask your doctor if you can take this medicine. Please inform the component of the product or tell them that this is a food supplement and not a drug regulated product.
Drink a lot of water and avoid soft drinks, coffee or liquor.
A   little walking exercise will help your muscle to be firm so we still advice to have a little exercise.
Avoid too much sugar (such as ice cream, chocolates or cakes). Remember you are taking a dietary supplements and you must help yourself too or else everything will be useless. You will not gain weight but not lose weight at the same as you add sugar to your body.
If you have any question, please contact +63-917-815-5836 / (02) 216-67-46 or visit our Facebook page: I want to be slim
Lastly, it would be nice if you can send us your SELFIE PIC with SnL. Don't forget to tag us! As we are giving FREE GIFTS to our client who share the picture with us and their experience.
If you experience itchiness or side effect stop the medication and consult your doctor.